Relax with Our Top Range of Bathing Accessories
As the icy winter kicks in, so begins that time of the year where we all crave a nice hot bath. It's great to be able to have a nice soak after a hard day's work, isn't it?
Bathrooms can become extremely slippery which is why people who struggle with their balance or mobility may completely avoid a bath. At Cavendish Health Care, we stock a range of mobility solutions that can help you enjoy a relaxing bath.
Here are a few bathing accessories that our customers find helpful:
Bellavita Bath Lift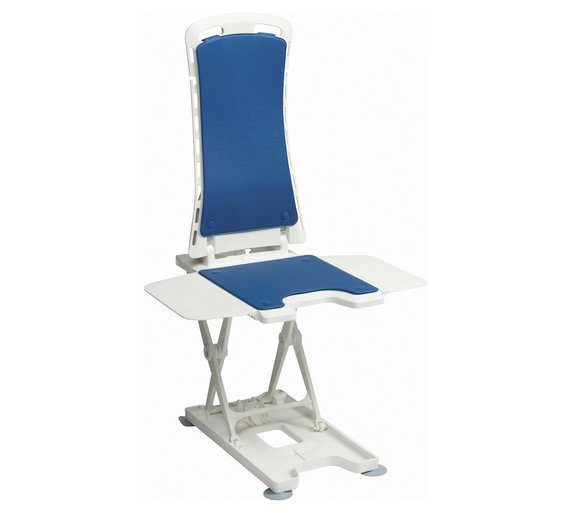 If it's getting in-and-out of the bath that stops you from having that evening soak, then a popular choice is the Bellavita Bath Lift. The benefit of this bath lift is that it's made using high-quality, recyclable lightweight plastic. A total weight of just 9.3kg (including a lithium battery) means that this bath lift is easy to take with you when staying away from home.
When designing this product, the manufacturer worked closely with medical professionals. The hoist can accommodate a user of up to 22 stone, and the seat has a height range of between 6-48cm.
Once lowered into the bath, the backrest will tilt up to 50 degrees, allowing you to recline and relax in a comfortable position. To raise yourself in-and-out of the bath, simply sit on the seat and use the waterproof remote control.
Bath Step
If it's a little help you need when climbing into the bath, then a bath step could be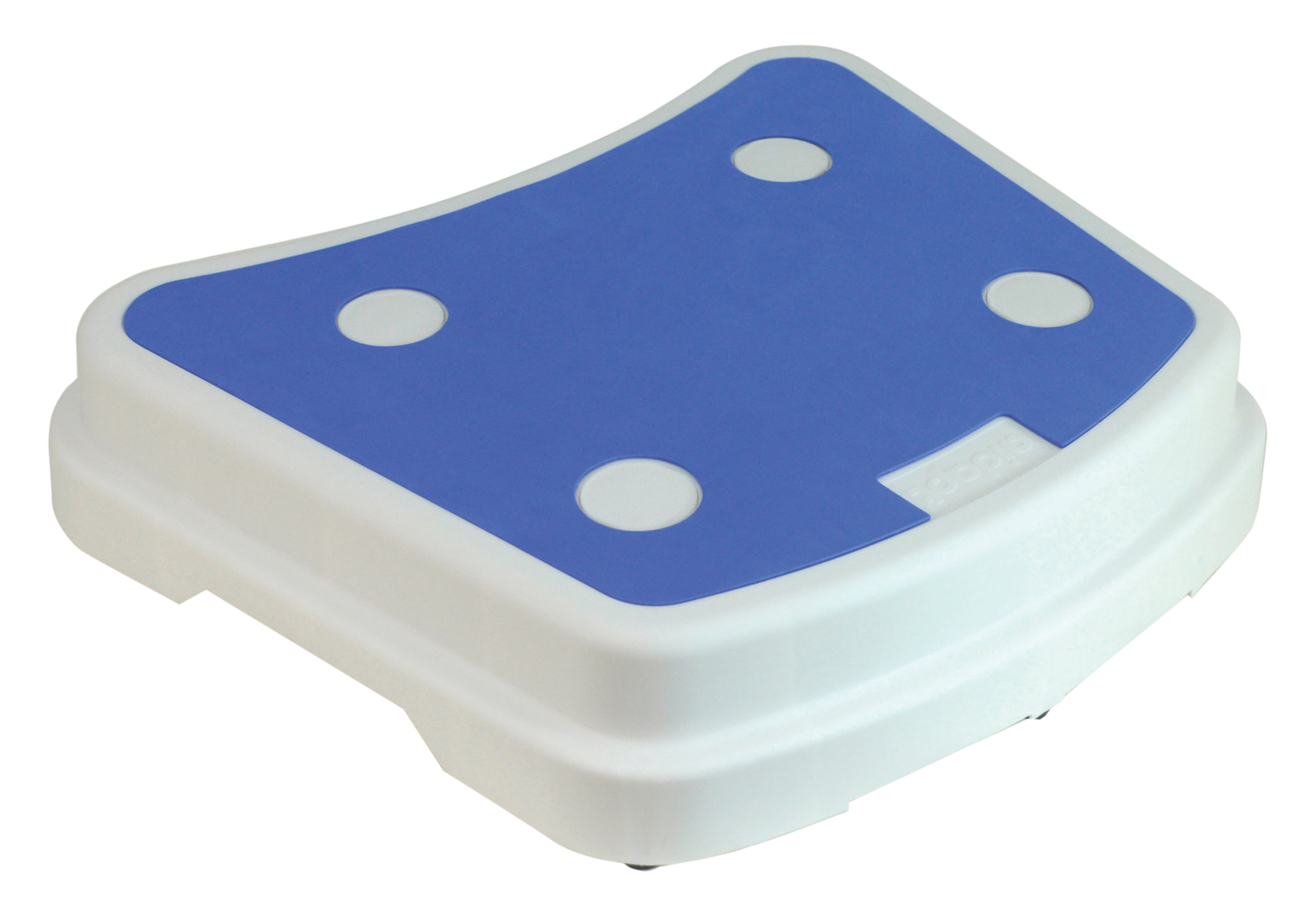 just what you're looking for. These are lightweight, so can be used around the home and include rubber feet to ensure it doesn't slide on slippery surfaces.
For extra safety, they usually have a textured surface to help prevent any slips or falls. If you purchase one with a modular design, you'll be able to stack additional steps for a higher reach. A bath step is a must if you're looking for a slip-proof surface to help with getting in-and-out of the bath safely.
Hand Supports
There are many different grab rails and hand supports on the market. They are extremely versatile and can be placed at strategic points throughout your bathroom or home.
Horizontal Rails are excellent if you need to pull yourself up from a sitting position. These types of supports are most suited to places like the toilet or bath.
Vertical Rails really prove useful when you want to pull yourself up to a standing position. Whatever you decide, a grab bar is an excellent safety aid to use in the bathroom.
If you're looking for something specific to help you when getting in-and-out of the bath - and you have strength in your hands and wrists - a bathtub grab bar will come in handy. There are many different makes and models, but the principle remains the same; it clamps easily to the side of a bath. so it's always there to provide the support you need.
Bath Bench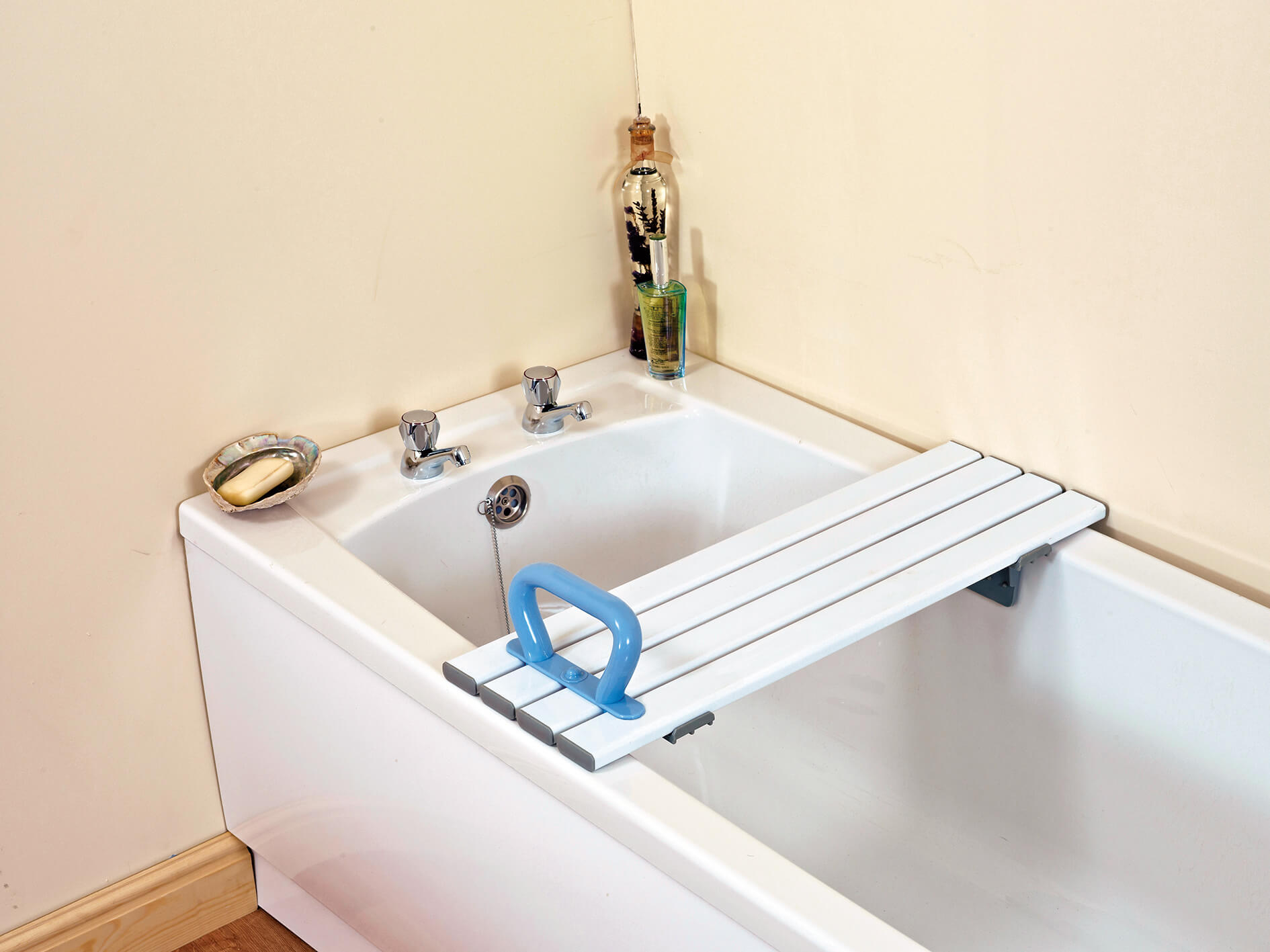 A Bath Bench clips to each side of the bath and is secured in place by two brackets with rubber buffers to stop it slipping.
The reinforced plastic slats are made to provide a strong seat with a maximum user weight of up to 30 stone.
Anti-Slip Mat
Everyone should have an anti-slip mat in the bathroom to prevent the risk of slipping. It can be attached to the bottom of the bath or shower with the help of a self-adhesive underside which works brilliantly in wet conditions.
The mat then provides you with a safe, slip-free surface to step on when getting in-and-out of the bath or shower. There are many different shapes and sizes to suit all different bath types.
In this blog, we've outlined just a few of the most common types of equipment that will help you enjoy worry-free baths. If you have any questions in relation to bathroom mobility aids, then give us a call on 02392 255600, where a friendly and experienced member of our team would be more than happy to help.