Best Car Boot Mobility Scooters for 2022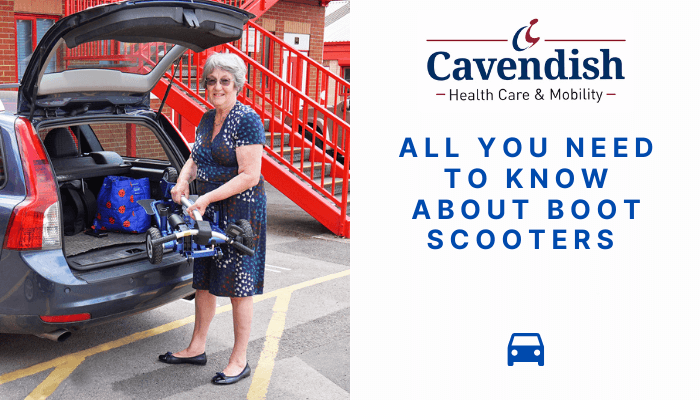 A good quality portable mobility scooter makes places more accessible for those who have limited mobility. They are ideal to help the user conserve energy when going for a long walk or day out and that's where car boot scooters are helpful.
What Do You Mean by Car Boot Scooters?
Well, quite simply a 'boot scooter' is just another word for a portable mobility scooter. The main difference being that they are small and compact enough to fit into your car boot space.
They are distinguishable from the more traditional 'bulky' machines called 'Road Class' or '8mph' which, due to their large size, require dedicated storage space.
So, if you're looking for a small and compact mobility scooter which is suitable to be used with your car, then a Boot Scooter is a great choice.
Different Types of Car Boot Mobility Scooters
There are two main types of Boot Scooters:
Foldable Boot Scooter:
You'll find that the majority of boot scooters will fall into this category. These are the most popular because as the name suggests, the design and structure allow them to fold as one unit.
Sometimes you may need to remove the seat first but there'll be no unfastening clips.
Dismantling Scooters:
This type saves space in your car boot by being dismantled. Different aspects of the scooter can be unfastened (like the seat, battery, and motor end) which can then be placed in your car boot.
It's important to keep in mind that dismantling a scooter can be quite a challenging task. If you have limited strength & flexibility, it's probably best to go with a foldable option.
Suitable for many different uses
In recent years, technology has become so advanced which has enabled manufacturers to increase the travel distance of portable mobility scooters while keeping them lightweight and compact.
This now gives people the option of using portable mobility scooters for everyday use. Some may even keep them in the car so they are on hand for seaside walks or days out with the family.
As you can see from this video, the SupaScoota Sport is able to easily navigate the inclines of this BMX track:
Here Are 5 Car Boot Mobility Scooters that We Recommend for 2022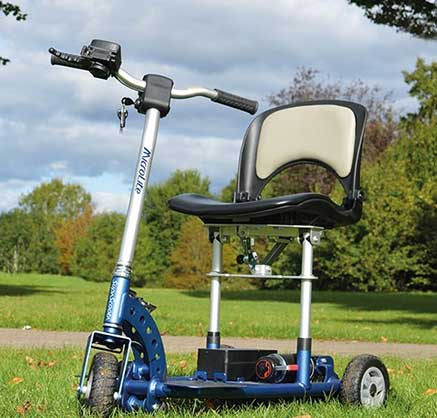 MicroLite
The Microlite portable scooter is the lightest mobility scooter in the world. It has a total weight of just 17.9 kgs (39 lbs) and that includes battery & seat.
It's nice and easy to lift into your car boot and has the addition of a folding seat which will free up even more space.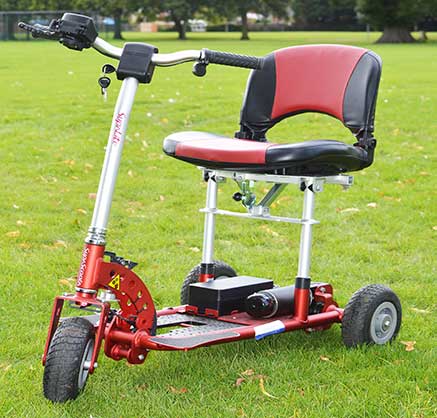 SupaLite
The SupaLite gives you portability while being suitable for those who are quite tall as it has a wheelbase of 97 cm (34.5").
Like the MicroLite above, it will still give you plenty of space in the car boot for other items and provide a travel distance of up to 8 miles (13km).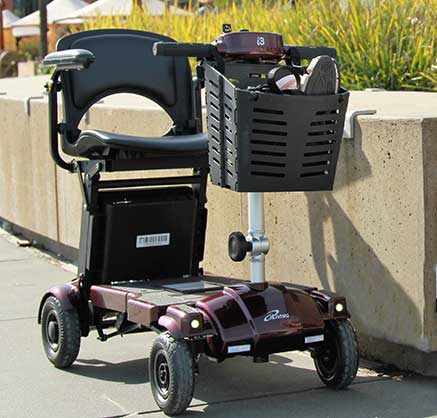 i3 Folding Scooter
The i3 mobility scooter folds in seconds and is suitable for a wide range of uses. It's made from aircraft-grade aluminium which makes it lightweight enough to be taken on all public transport, and of course, placed in your car boot.
It has functionality for two lithium batteries and the option of a Power Lifter to make getting it into the car boot even easier.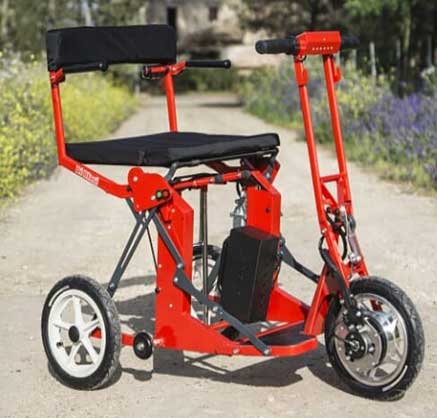 Di Blasi R30
One press of a button is all it takes for the Di Blasi R30 to fold into a suitcase-type shape. The collapsible design allows it to be easily pulled along or stored neatly into a car boot space. A stable ride experience comes from its high ground clearance, low centre of gravity, and oversized wheels.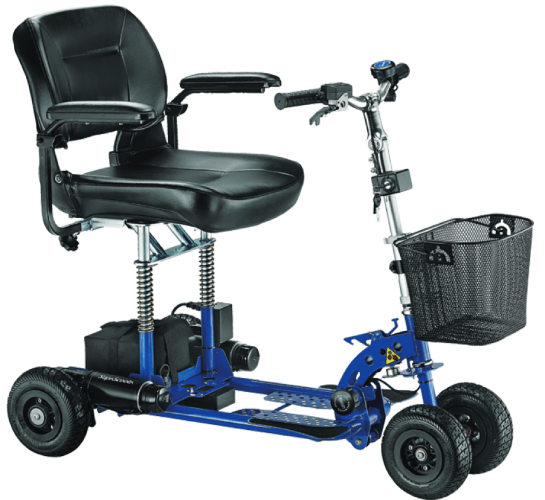 SupaScoota Spartan
The SupaScoota Spartan really is something special. It has a weight capacity of up to 32 stone while still having the benefit of being portable with excellent comfort levels. The recently introduced folding seat only reduces the amount of space taken up in your car boot.
So, there you have it. We've broken down the different types of portable scooters and also given our pick of the best car boot mobility scooters for 2022. If you have any questions, please contact one of our mobility professionals.
Where can I buy a Boot Scooter near me?
Good question. We have showrooms in Waterlooville, Exeter, and Torquay with an excellent selection of Car Boot Mobility Scooters, to suit all manner of requirements, so why not pop down and try a few out.
If you don't live within these areas, then not to worry! We have a Lightweight Scooters 'Mobile Showroom' option. We'll load the mobility scooters that interest you into a van and come to visit you at home.
This allows you to test our selection in and around your home – after all, that's where you'll be using it most!