Exploring the Different Types of Portable Mobility Scooters
Portable mobility scooters are always going to be in demand.
Why I hear you ask?
As technology improves, designers and manufacturers can be more creative. The future of portable mobility scooters is looking exciting, so watch this space.
What makes portable mobility scooters popular is that they are usually lightweight, or if not, easy to dismantle which then makes them more manageable. Some models can be folded automatically.
All this means a portable mobility scooter should fit nicely in a car boot space.
Luckily for you, we've spent many years finding the best boot scooters which are suitable for use in the local area, shopping trips, and travel adventures with loved ones. The possibilities are endless.
All of our portable mobility scooters have a speed of up to 4mph. Anything faster falls within our 8-mph category, also known as road class scooters. You'll find these harder to transport due to their bulky and heavy components.
The Lightest Portable Mobility Scooters
The main benefit of the scooters in this category is that they can be broken down piece-by-piece. This is really helpful, especially if you are unable to lift the whole mobility scooter.
It could be that taking the seat and battery off is enough. If not, there is always the option to take off the seat, battery, plus the motor end to make it manageable.
For this blog, we are going to split this category into two sections:
Ultra-light travel scooters
Light travel scooters
This is because we stock some of the very best lightweight mobility scooters (unique to us and a few of our dealers) in our Waterlooville, Exeter, and Torquay showrooms.
Ultra-Light Portable Mobility Scooters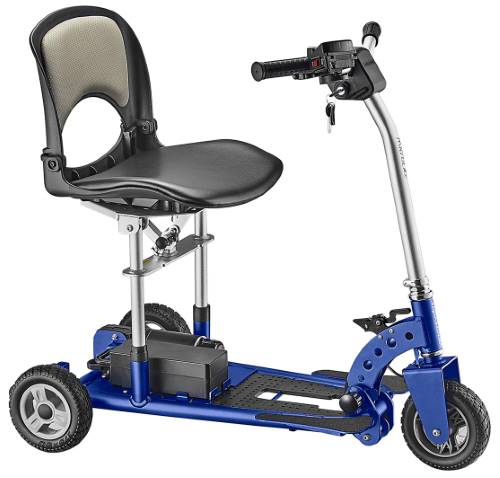 MicroLite Portable Mobility Scooter
Product Weight = 17.9 kgs (39 lbs)
Frame = 11.9kg (26.2lbs) without battery & seat
The MicroLite is one of the lightest portable scooters in the world with a weight of just 17.9kgs (39lbs) including battery and seat. Remove the seat, fold the tiller and the scooter will fit in a small car boot space.
As the Panasonic lithium battery is cleared for air travel, the world really is your oyster.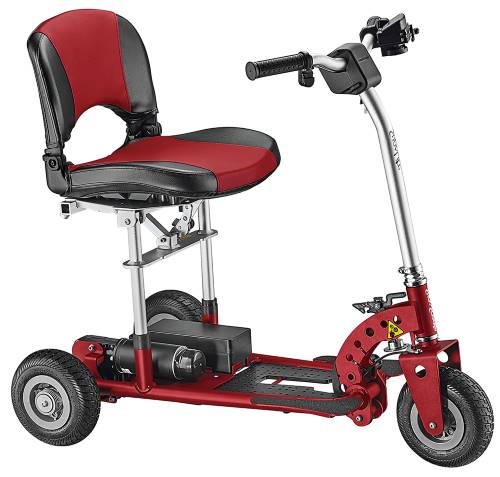 SupaLite Portable Mobility Scooter
Product Weight = 20.4 kgs (45 lbs)
Frame = 13.6kg (29.9lbs) without battery & seat
With the SupaLite, you will get a little bit more. This includes a 260W motor and a wheelbase of 97cm.
In exchange for these extra features, you'll need to sacrifice a little weight. An excellent portable scooter that would suit the taller person.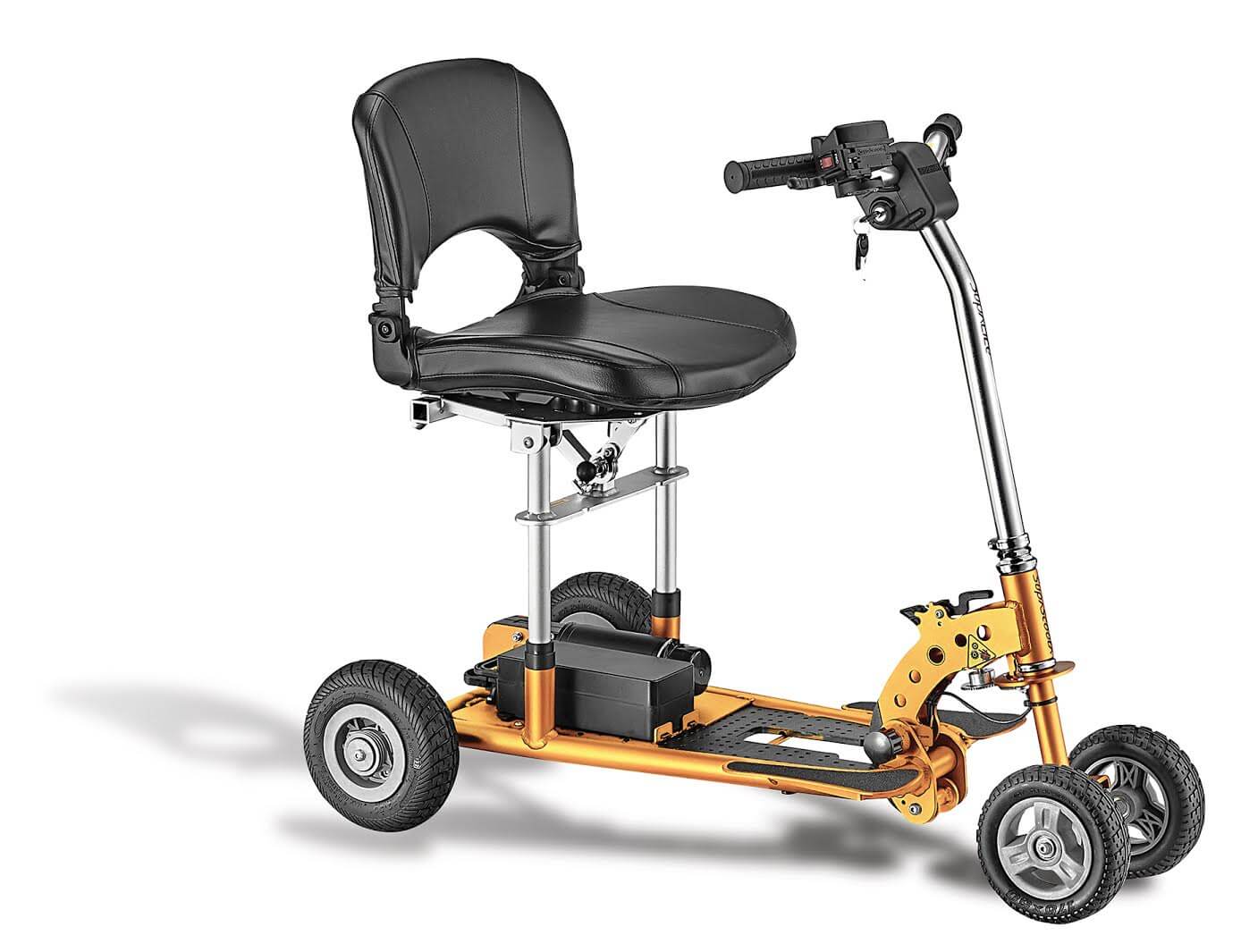 SupaLite 4 Portable Mobility Scooter
Product Weight = 21.1 kgs (46 lbs)
Frame = 14.3 kg (31lbs) without battery and seat
Perhaps you like your mobility scooter with four wheels? The new SupaLite 4 has a total weight of just 21.4 kgs (46lbs). This can be reduced to 14.4kg once the battery and seat are removed.
Light Portable Mobility Scooters
SupaScoota Sprint
Product Weight without battery = 32.3 kg (64 lbs)
Looking for something to help while shopping? The SupaScoota Sprint is a perfect choice. A suspension seat will keep you nice and comfortable, plus the 2x 150-watt motors are a nice touch.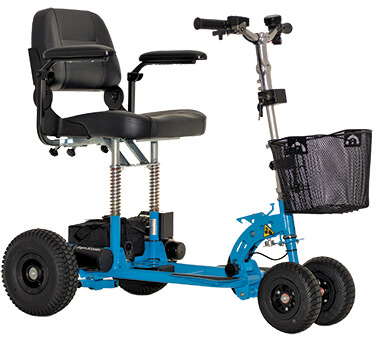 SupaScoota Sport
Product Weight without battery = 32.3 kg (64 lbs)
If you love being outside, then the SupaScoota Sport is for you. The dual-motor provides a smooth drive on-or-off pavement. You will love the travel distance of up to 12 miles, as well as the premium safety features.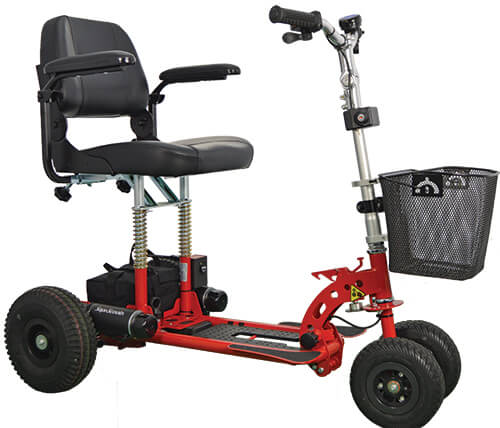 SupaScoota Sport XL
Product Weight without battery = 34.8 kg (77 lbs)
With all the main benefits of the SupaScoota Sport, the Sport XL model has a longer wheelbase, plus 2 x 180W motors for extra power.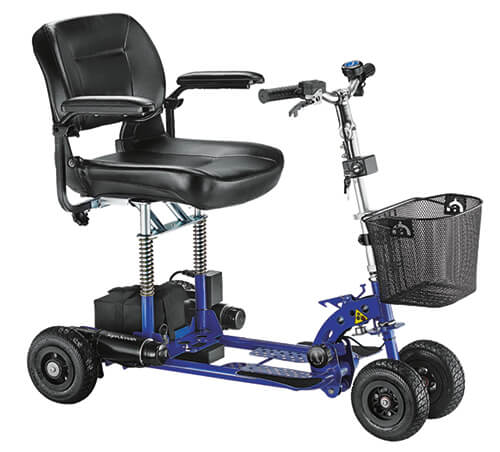 SupaScoota Spartan
Product weight without battery = 36.85 kg (81 lbs)
Perhaps the most impressive in the SupaScoota Range. The Spartan can handle a user weight of up to 32 stone (200 kg) while still offering features such as a padded suspension seat and lots of legroom.
Lightweight Folding Mobility Scooters
If you don't want to be unfastening sections of your mobility scooter, then a folding option is a good choice. These will fold down in one complete unit, but obviously, these will naturally be heavier.
Here are some of the best folding mobility scooters around today.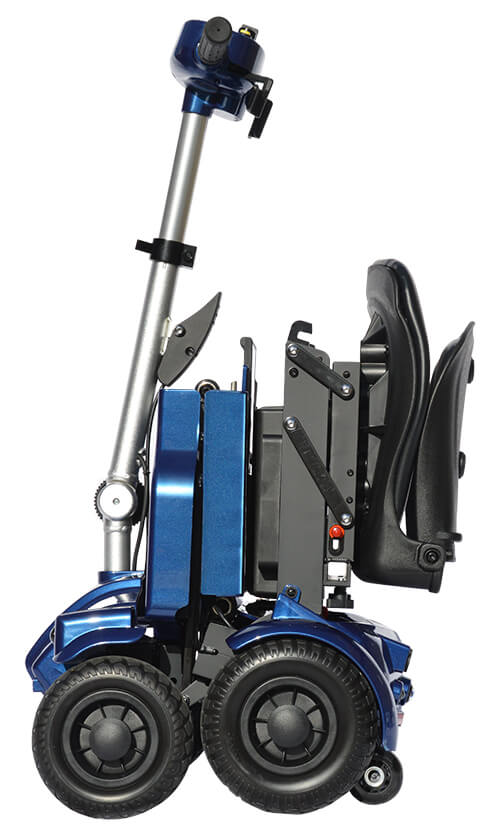 i3 Mobility Scooter
Product Weight = 24 kg (53 lbs)
We have had many customers sing the praises of the i3 folding mobility scooter since 2018. Both for its ease of use and how it has helped them lead an active lifestyle.
The i3 can hold two batteries, both giving a range of up to 7 miles, so that's a combined total of 14 miles (quick maths, right!) It's so easy to change batteries – all it takes is a flick of a switch.
Di Blasi R30
Product Weight = 26.9 kg (59.3 lbs)
The Di Blasi R30 probably has the biggest 'wow-factor'. The fine Italian craftsmanship is evident in the eye-catching red paintwork. This scooter can be opened and closed with one quick press of a button.
Once folded, simply pull along using the integrated handle or place neatly in your car boot.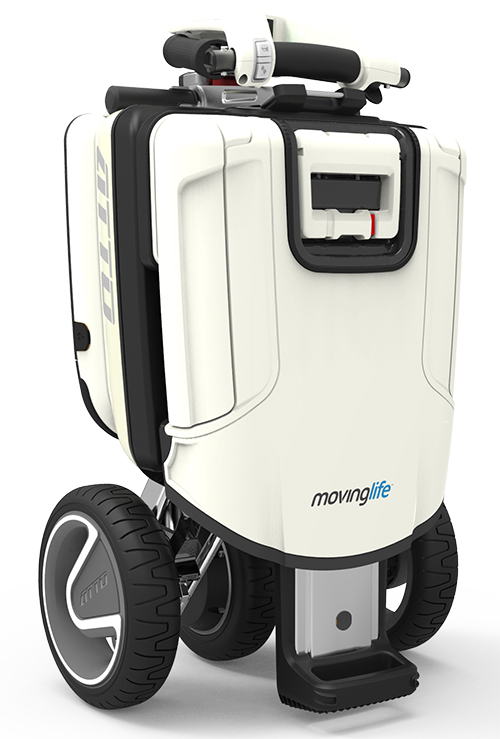 The Atto Folding Mobility Scooter
The ATTO Folding Scooter oozes class and simplicity with its all-white, glossy paint job. It has a smooth folding mechanism with a USB charging port and a travel distance of up to 10 miles.
Whatever type of portable mobility scooter you decide to buy, it's always worth visiting our Waterlooville or Torquay showrooms for a demonstration.