Are you searching for a super light mobility scooter?
Look no further!
Here at Cavendish Health Care, we know how important it is to find quality and comfort without compromising on convenience. With so many options available, it can be a struggle to find the right scooter option for you.
So… How can Cavendish Health Care help you?
You may have heard of the SupaScoota Sprint, Sport, Sport XL and Spartan, our (best) car boot mobility scooters with suspension (and if you haven't you should totally check them out on this website). We identified the SupaScoota range as the ideal, portable scooters and knew they would be perfect for our customers. Today, I think it is important to introduce you to their lighter cousins, the Supalites. (Clever name, right?)
The Microlite, Supalite and Supalite 4 Sport are all made with aircraft aluminium and are the best lightweight mobility scooters, that are offered for sale by Cavendish Health Care. These super scooters have been designed with easy loading in mind, by reducing their weight with a removeable seat and battery. For 4mph mobility scooters, what more could you ask for?
The Microlite is the lightest and smallest mobility scooter in this range. This boot scooter is ideal for shopping trips, when walking those long isles is more tiring than it used to be. With solid wheels, it navigates smooth and flat surfaces with ease. How much would you need to lift? I'm so glad you asked! With the seat and battery already easily moved into your boot, the folded frame weighs no more than 11.8kg!
The Supalite is the middle child of this range and can take on a little more exploration than its baby brother, with pneumatic/air-filled tyres. Although it is more efficient on level ground, this scooter can get you to and from your local shops (just remember to mind the potholes), and just as you did with the Microlite, lifting the seat and battery into the back of your vehicle with ease, the final part weighs a total of 13.6kg!
The Supalite 4 Sport is the newest model (which sadly ends the metaphor here) and could be considered an upgraded model that can handle shops, pavements, and grass to give you more freedom whilst keeping it as light as possible.
How does it do that? Bigger back wheels! Of the 3, the Supalite 4 sport is the only model to have 9 inch back wheels (again air filled), for a softer, smoother ride over that slightly rougher terrain. It also has a longer frame to accommodate people with longer legs for that additional comfort. The heaviest component to this scooter, which is still the frame, is only 15.6kg!
Quick top tip of the day to help you on your internet searches - if it doesn't have automatic breaking it is not classed as a mobility scooter.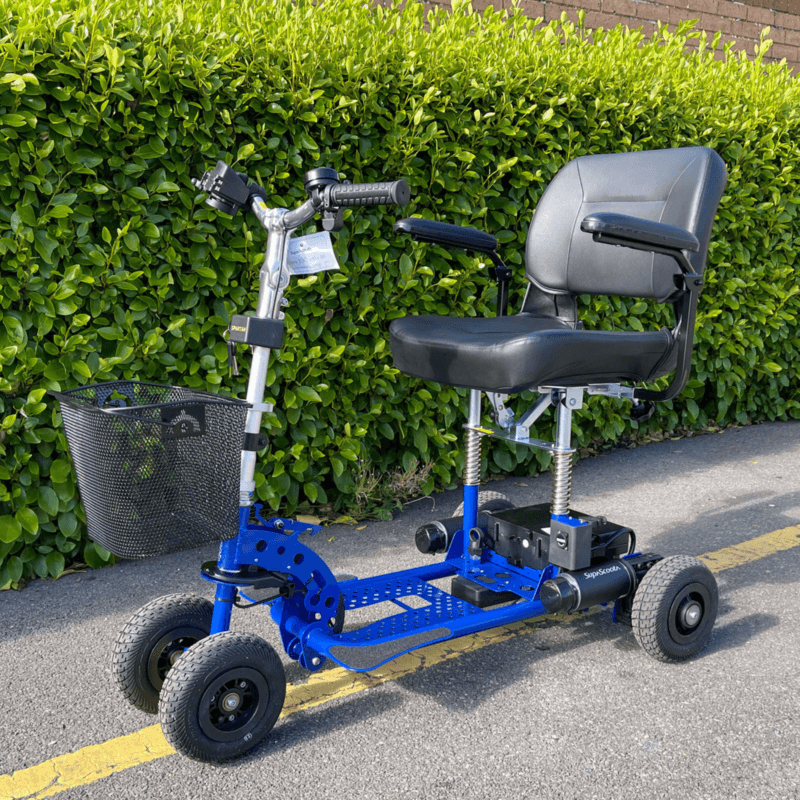 To keep this range of mobility scooters reduced in weight they are not equipped with suspension (however, you would be amazed by the ride quality) they are therefore not designed for rough terrain. You may find whilst reading this, that your ideal scooter was able to go on a trip through the woods. With that in mind our SupaScoota family may be the answer! Check out the SupaScoota Sprint, Sport, Sport XL or the Spartan for 4mph mobility scooters with suspension.
Or if you are reading this and think that the Supalites are still not light enough, we may recommend other options for you to explore, such as a mobility scooter hoist for cars. Come find out! If you're looking for mobility shops in Waterlooville, Torquay or Exeter or if you have any questions, don't be afraid to call. With over ten years of experience, we can offer advice and support to make sure the product you want suits your needs. Our friendly team are always here to help!