An ideal mobility aid disguised in your own home as a gorgeous, new armchair
Home Sweet Home. Home is where the heart is. Home is where you get to relax, unwind and most importantly be comfortable.
When people talk about comfort, sitting 'healthily' isn't really brought into the conversation, yet I believe it is the most important factor for long-term relief. What Cavendish Health Care bring to the table are made to measure, electric recliner chairs. You won't find that at your local furniture shop!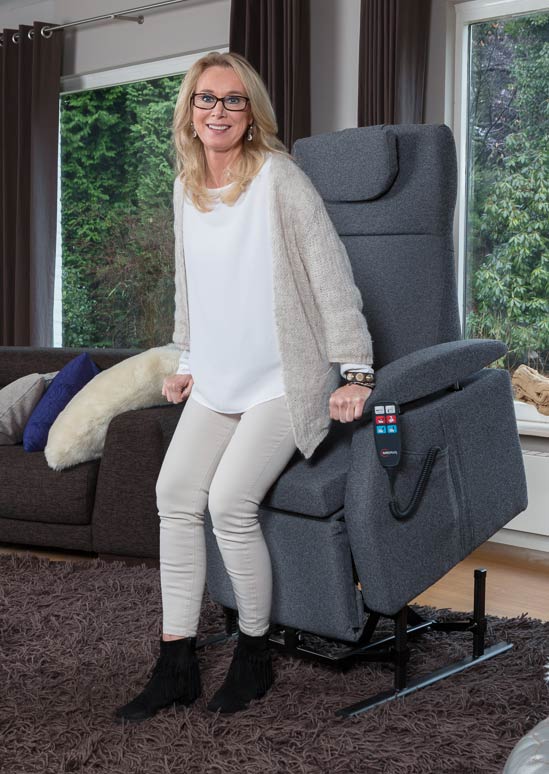 FitForm and Riser Recliner chairs are the ideal mobility aid disguised in your own home as a gorgeous, new armchair. Not only are they able to support reduced mobility that we face as we get older, but they can also be tailored-made to a customer's medical requirements. So, whether you are elderly, disabled or simply need more lumbar support, these chairs can make life a little easier.
So why choose these over your standard armchair? Well, with the availability of a single motor, dual motor, or triple motor you are able to purchase a chair that gives you a range of healthy positions you need to keep comfortable (motor actions explained). Dual motor riser recliner chairs can move in two separate places, the back and the legs for an increased range of motion. Imagine what a triple motor can do! These chairs are perfect for customers who may spend a lot of time sitting down, as they can have a pressure care seat added to keep your bottom sore-free! If you or someone you know are living with a spine condition such as scoliosis and find a lack of support in a traditional chair, FitForm have your back! Literally! The FitForm ILP backrest is designed to have separate cushioned pads for individual support on the back, in the right places. Another great feature of these chairs is the ability to move into a zero-gravity position, where your legs are higher than your heart. 'This ensures optimal blood circulation and relaxation of the muscles', quoted by the experts themselves at FitForm. Ideal for customers suffering with any swelling!
And why not keep it stylish, with many fabric options to choose from, and a variety of colours to select, you can make sure your new addition blends right into the style of your front room. They also come with cigarette and match resistance to keep your chair protected long-term… Speaking of long-term, the back cushions of all Cavendish Health Care recliners are attached with velcro for easy manipulation in case of any circumstance change. Feeling extra tall today? Adjust your head rest to be comfortable, with a quick movement.
FitForm chairs truly stand out from the crowd as one of the best recliner chairs, for the reasons above and most importantly because of their Tilt-In-Space design. This allows you to adjust your position whilst still being reclined! No need to go back to step one, just press the button on your remote control and allow the chair to do the work for you. (Don't worry a manual is included if you ever want a refresher). This complex mechanism is built for the customers ease, to get the right level of lift and take the pressure off your legs, allowing your back to take some of the weight. With options like an extended leg-rest, you can also ensure your legs are not being overstretched.
Due to being tailor-made, I'm afraid there is no next day delivery on these chairs, but I promise you they are worth the wait! Take it from me, a 22-year old in chronic pain, who is always excited to go home and sit down in comfort. Having the ability to tilt the chair and take the pressure away from my hips is an invention I am grateful for.
So with a better understanding of these chairs, I highly recommend a visit to Cavendish Health Care's mobility shop in Waterlooville (they also have showrooms in Torquay and Exeter!) Go and see their wide range of manufactured chairs in stock, feel the variety of materials and confirm which motor you need to reach that level of comfort that will help you feel more relaxed and more at home. For Riser Recliner chairs near you, search Cavendish Health Care.