Frequently Asked Questions (FAQ) - Riser Recliner Chairs
What is a riser recliner chair?
A riser recliner chair is a specialised piece of furniture designed to provide enhanced comfort and support for individuals with mobility challenges. It allows the user to recline the backrest and raise the footrest electronically, while also assisting them in standing up or sitting down with the help of a motorised lifting mechanism.
Who can benefit from using a riser recliner chair?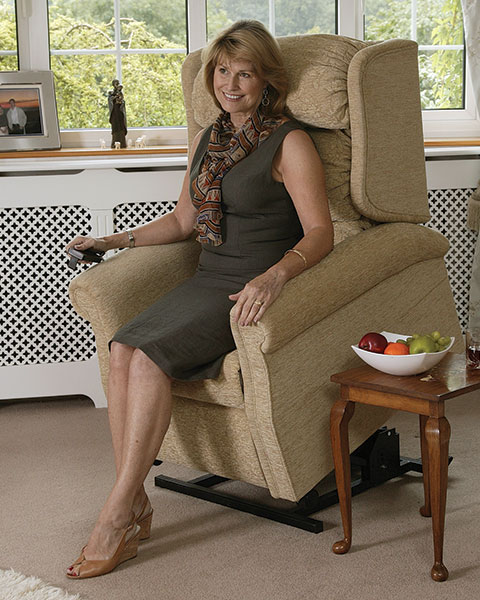 Riser recliner chairs are particularly beneficial for individuals with limited mobility due to age, physical disabilities, or health conditions such as arthritis or back problems. They can greatly enhance comfort and independence for those who may struggle with conventional seating.
If you experience ailments like arthritis, backache, or joint pain, a riser recliner chair can provide relief by allowing you to find a comfortable seating position. Having to rely on assistance to stand up from a chair can be frustrating. This is where a riser recliner chair can prove incredibly beneficial, as its "lift and tilt" feature enhances your independence by enabling you to effortlessly get in and out of the chair.
How does the lifting mechanism work?
The lifting mechanism of a riser recliner chair operates through a simple handheld remote control. By pressing the appropriate buttons, the user can smoothly transition from a seated to a standing position or vice versa. The motorised mechanism gently assists the user, reducing the strain on their muscles and joints.
Try our blog: riser recliner chairs - motor actions explained.
Are riser recliner chairs available in different sizes and styles?
Yes, riser recliner chairs come in various sizes and styles to accommodate different body types and home décors. From compact options ideal for smaller spaces to luxurious designs with additional features like heat and massage functions, there is a wide range of choices available. There are also various types riser recliner of back styles available.
Do riser recliner chairs require a power source?
Yes, riser recliner chairs are powered by electricity, and they need to be connected to a power outlet for the lifting and reclining functions to work. However, many models have battery backup systems, ensuring the chair can still be used during power outages.
Are riser recliner chairs covered by insurance or available through the NHS?
In some cases, riser recliner chairs may be available through the National Health Service (NHS) in the UK, but eligibility criteria and waiting times may apply. Additionally, certain insurance policies or healthcare plans might cover the cost of a riser recliner chair, especially if it is deemed medically necessary.
How do I clean and maintain a riser recliner chair?
To maintain your riser recliner chair, follow the manufacturer's cleaning instructions, which typically involve using a soft, damp cloth for regular cleaning. Avoid using harsh chemicals or abrasive materials. It's also essential to have the chair serviced by a professional periodically to ensure its proper functioning.
Can I customise my riser recliner chair for added comfort?
Yes, many manufacturers offer customisation options to tailor the chair to your specific needs. This may include choosing different fabrics or materials, selecting specific features like heat and massage, and adjusting the size for a more personalised fit.
Learn more by reading our blog: Getting the right fit for your riser recliner chair.
Are riser recliner chairs easy to assemble and install?
Most riser recliner chairs are delivered fully assembled, so you don't need to worry about complex installations. However, you might need to attach the backrest and footrest securely, which is usually a straightforward process. Always refer to the included user manual for guidance.
At Cavendish Health Care & Mobility, we always deliver and install the riser recliner chair for you. We also ensure that the chair is in the exact position that you want.
Can I try out a riser recliner chair before purchasing?
Yes, it's essential to try out a riser recliner chair before making a decision. Here at Cavendish Health Care & Mobility we offer the opportunity to test different models to ensure that the chair meets your comfort and mobility needs.
Our showrooms stock a wide range of Riser Recliner Chairs and we always recommend that you try any chair before you buy it.