Riser Recliner Chairs: Motor Actions Explained
The type of motor action for a Riser Recliner Chair depends on the user's needs and requirements.
It could be to provide enhanced support, make sitting and rising easier, to elevate the ankle while sitting, or to provide an option of side transfer. In some instances, the user may just wish to make sitting and relaxing more comfortable.
In this article, we're going to explain Single, Dual, Dual motor Tilt-in-Space, and Wall hugger Chairs.
Single Motor Chairs
A single Motor chair is where all the different functions are controlled by 1 motor and a set of single buttons. With this type of chair, you'll get a two-way, tilt-in-space action that offers high leg elevation, reducing friction or shear, as the seat to back angle remains consistent.
Dual Motor Chairs
The two motors on this type of chair allow leg rest and backrest to be controlled independently, giving the user more options. For example, the backrest can be fully reclined with minimal friction or shear as the backrest opens away from the seat.
Dual Motor Tilt-in-Space Chairs
A dual Motor Tilt-in-Space chair gives the user independent backrest operation with a tilt-in-space recliner motion. The specific movement of the tilt-in-space action enhances comfort levels by reducing the amount of friction & shear.
Wall-hugger Chairs
These are the ultimate space saver and work well in confined spaces or next to a wall. When the backrest reclines, it causes the chair to rise in one single motion which slides the chair forward and away from the wall.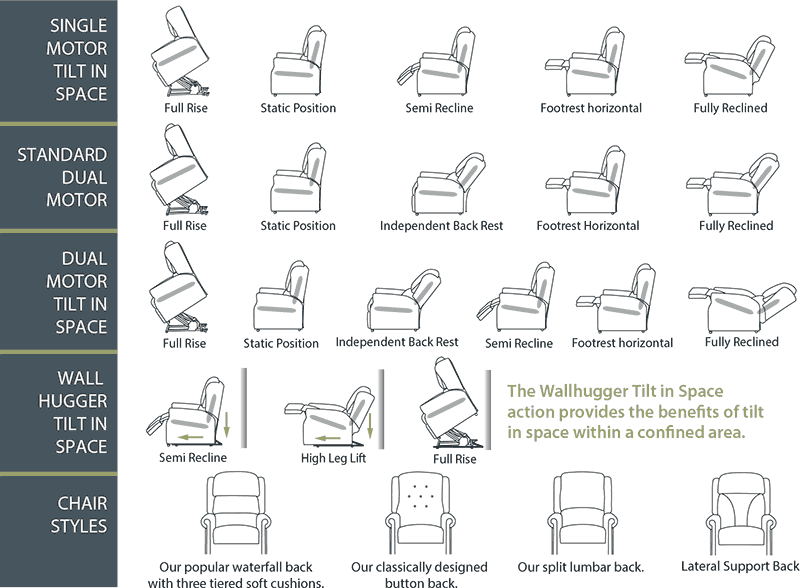 Other guides include:
If you've read these guides or just want to talk to a member of our team, you can call us on 02392 255 600 for Waterlooville or on 01803 220 378 for Torquay. In both showrooms, we have a wide selection of seating options for you to test.