The New Di Blasi Car Hoist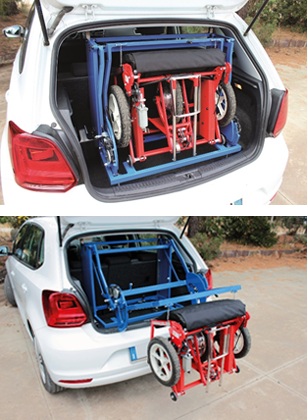 The NEW Di Blasi Car Hoist has arrived in the UK. For many years, the Di Blasi family has been designing and manufacturing folding mopeds, folding tricycles, folding bicycles and folding mobility scooters.
The company was founded by Mr Rosario Di Blasi. He was a pilot in the Italian Air Force and was always interested in innovative mechanics. He soon realised the demand for space saving vehicles after living in an 8th floor apartment in Rome. The elevator was too small to hold his bicycle so Rosario was forced to carry it up the stairs after a hard day's work.
One thing that makes the Di Blasi Car Hoist stand out from the crowd is that it has no permanent fixings so you'll be able to move it from car to car. This is extremely helpful if you have more than one car in the household because it won't limit which car you take on your journey.
Now, moving on to the technical side of the hoist.
The strong and powerful frame is held in place by 14 rubber bumpers positioned to the front, rear sides, top and bottom. These bumpers can be adjusted so that they'll lock and secure the hoist to a wide range of different boot spaces. Due to the simplistic design, the hoist can be altered and moved without the help of an engineer or technician.
The beauty of the Di Blasi Car Hoist is that it leaves enough space behind the frame and to the sides for you to store your shopping. Of course, it really does depend on the size of your car boot as to how much storage space you'll be left with.
The straightforward design of the Di Blasi Car Hoist means that it is easy to install and can be removed when it's not being used. It will certainly have a positive impact on your life by taking the stress and strain from your day, leaving you to focus on the things that really matter - like what adventure you're going to go on next!
Would you like to view a video of the Di Blasi car hoist in action?
If you're muttering to yourself, "but how do I power this thing?" the good news is that you have a couple of options. The car hoist will run off your scooter battery or if that's running low, it can be connected to your car battery with the help of a little converter.
If you want to see the Di Blasi Car Hoist in action, then pop into our Waterlooville or Torquay showroom. Alternatively, please give us a call on 02392 255600 where a friendly member of our team will be more than happy to provide any information you might need.