Electric powered wheelchairs (or powerchairs)
Electric powered wheelchairs were first invented in 1953 by George Klein to support World War 2 soldiers who were injured whilst serving. Thanks to him, in the last 70 years they have evolved to support those with restricted mobility to stay as independent as possible!
Interestingly the name of this unique tool has also evolved, firstly shortening to 'powered' wheelchair, (or if you're looking for less syllables - powerchair). In the 21st century it is now more commonly known as an 'electric' wheelchair. Whatever you call it, these motored chairs may help you, or someone you know improve their daily life.
Electric wheelchairs can be a customisable bit of kit, tailored to the customer's needs. Varying from light and portable to prescriptive and specialised, electric wheelchairs are the other option to mobility scooters and are highly recommended for people who have reduced mobility in their legs.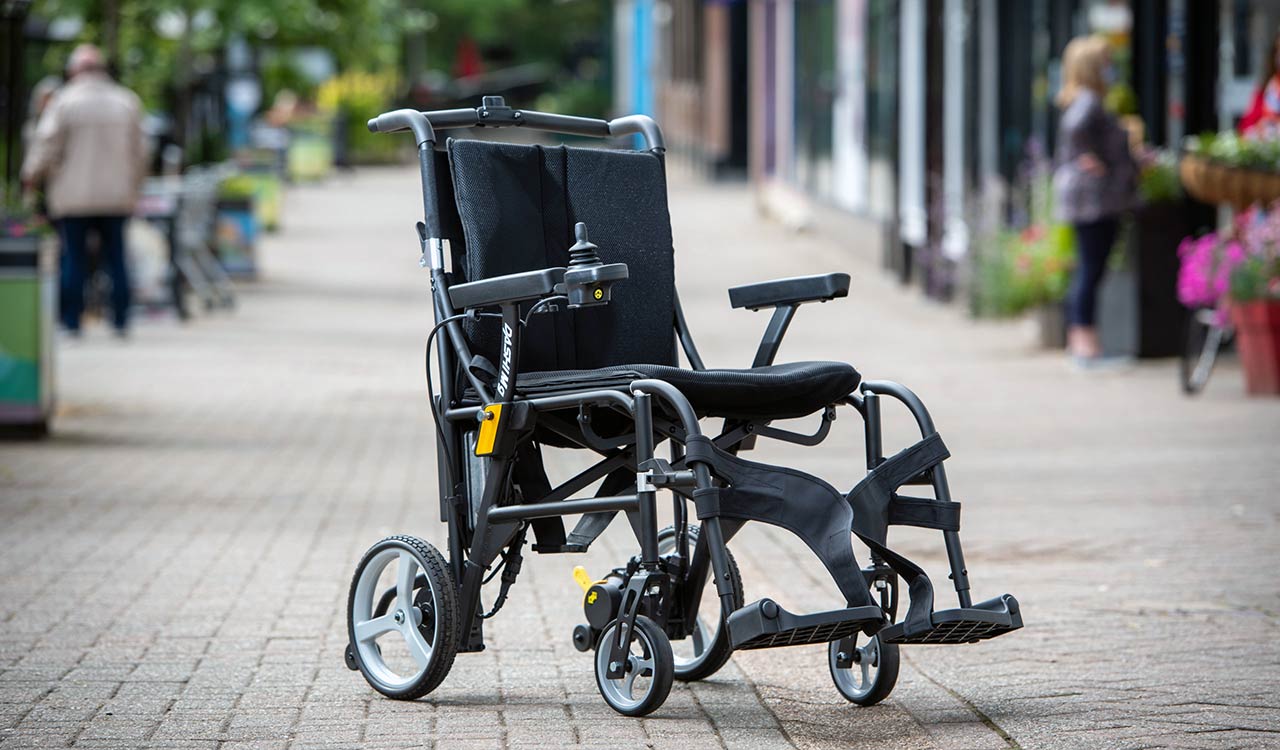 They were originally designed for long term use and are ideal for people who would be spending a lot of time sat down. More recently lightweight and portable options have become available for anyone looking for a short-term option. There is also a range of choice, whether you are looking for exclusively indoor use, or for a model more suitable for outdoor terrain, you'll be sure to find what you need. Some are even practical enough to cover both! Built with two motors (usually), you also have the ultimate turning circle, allowing for even more manoeuvrability so they are perfect for smaller, confined spaces. Easily controlled with a dual control joystick, the design allows for a full rotation of 360 degrees, smooth navigation, and a simple way to adjust your speed.
Dashi MG
A great example model would be the Dashi MG, available at Cavendish Health Care. Crafted with a magnesium frame, this ultra-lightweight electric wheelchair can do it all! (Or almost everything). It comes with a lithium battery, is foldable and has a weight capacity of up to 19 stone.
Can I use it indoors and outdoors?
Of course, although suited for short trips, this powerchair can handle up to 9 miles with a full battery, at a speed of up to 4mph.
Is it foldable?
Absolutely, the Dashi MG was designed to be sleek; folding within 10 seconds, and light enough to load in and out of the boot of your car without hoarding too much space. Talk about compact! This model in particular folds vertically - like a normal wheelchair, simply pull the seat up and this will draw the sides together.
Are you able to manually push it?
Definitely! The motors on this model can be disengaged, so that the user may be pushed instead of using the joystick controller.
Can it be attendant controlled?
Yes, this is a great alternative to manually pushing the electric wheelchair. The Dashi MG is dual controlled, meaning that the joystick can be moved and attached to its back (if the bracket is purchased) so that the attendant can take control of the joystick.
There are many benefits to a powerchair, offering the freedom for someone less able, to do as much as possible, comfortably. If you aren't so sure why not visit our mobility shop in Waterlooville and try one for yourself? We are also located in Exeter and Torquay!
If what you have read has sparked an interest or you would like to know more, please do get in touch with our lovely team at Cavendish Health Care, where you can see all our products in person or give us a call, we'd be happy to help!