Staycation Travel Scooters for Summer 2022
It is well into July, and here at Cavendish Healthcare & Mobility the Great British summer is kicking into high gear. The sun is shining, the temperatures are soaring, and a UK staycation has never seemed more appealing.
So what is holding you back from booking a staycation? Is it the cobbled streets of roman town centres? Is it walking around local attractions? Is it the practicalities of fitting a big mobility scooter in your car? We at Cavendish Health Care & Mobility have the answer for you, our range of specialist travel scooters.
At our showrooms in Waterlooville and Torquay we have a wide range of wheelchairs, powerchairs, and mobility scooters, and our in-house product experts have come up with their top 3 travel scooters for taking on your summer staycation in 2022.
Can't get to one of our showrooms? No problem, we can come to you. Contact us to arrange a home demonstration anywhere in the UK. Our free, no-obligation demonstrations are designed to help you get the right mobility equipment from the comfort of your home.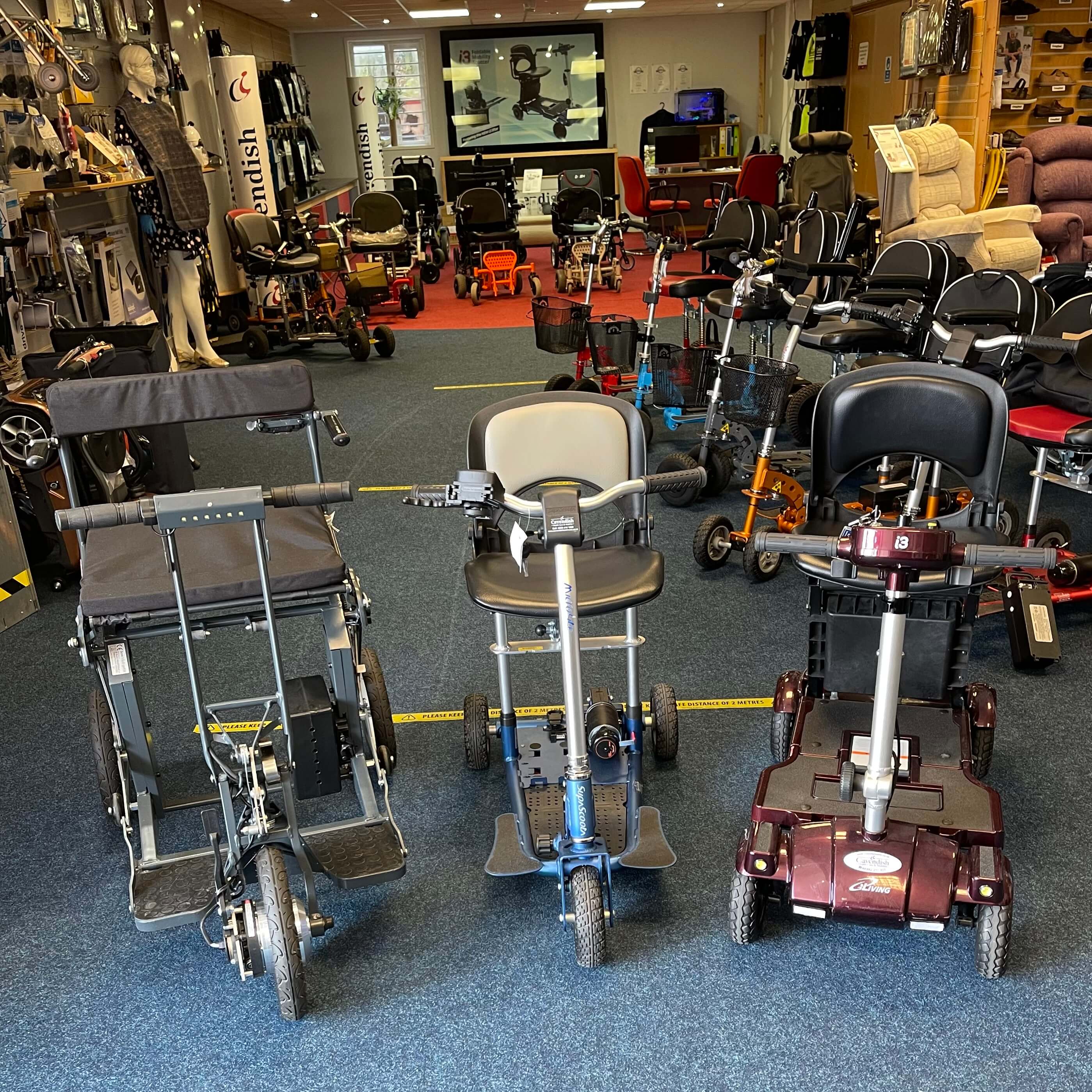 #3. i3 Mobility Scooter
Number 3 is for i3, a lightweight travel scooter which can be folded easily using just one hand. The folding mechanism works seamlessly using their patented two-step system. Simply fold the backrest and pull up from the floorboard of the scooter to fit it in your car.
The i3 is the heaviest of these staycation scooters, but it has a party trick, a portable lift to assist you when manoeuvring it into your car. With tracks to guide the i3 on and off the lift, it is easy to take an i3 on your staycation.
The i3 has a maximum travel distance of 20 miles, more than enough for any daily holiday adventures.
While you're enjoying your staycation, you're sure to want to take some photos on your smartphone. This is no problem for the i3, as it comes with a built-in USB charging port so you can recharge your devices on the go.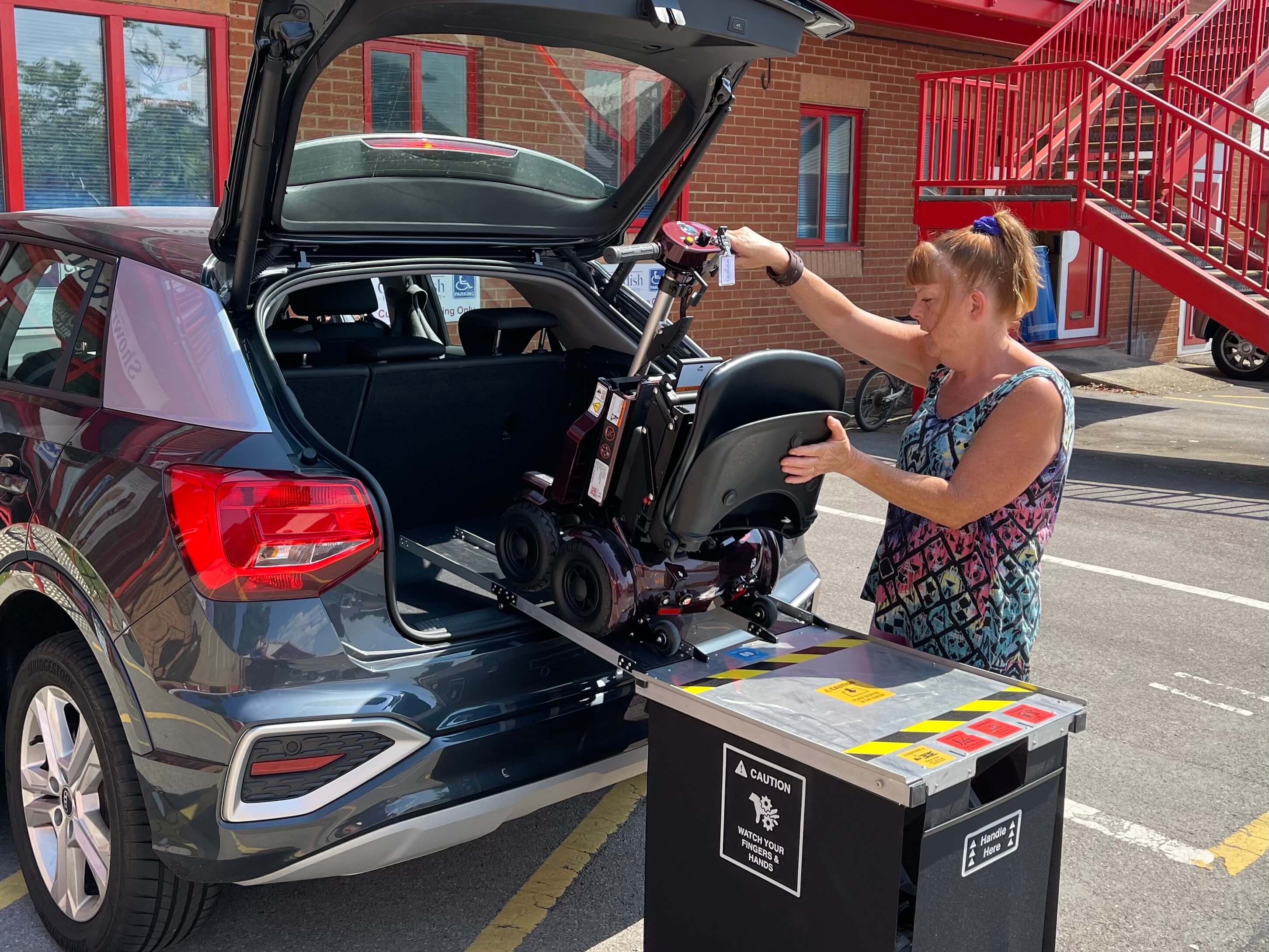 #2. Di Blasi R30
At number 2 on our list is the Di Blasi R30. The Di Blasi family have been designing and manufacturing folding vehicles since 1974. They have mopeds, tricycles, and bicycles in addition to folding mobility scooters in their portfolio of products.
This travel scooter folds into a cube automatically requiring no work on the part of the user. Once it is folded, the integrated handle allows you to pull it along like a wheely suitcase. To make it as easy to lift as possible, the Di Blasi R30 runs off a lithium battery which can be released quickly from the scooter.
The automatic folding and unfolding mechanism works by the user holding down a button and letting the Di Blasi R30 take care of the rest. In less than 10 seconds you can have you scooter ready to use, or ready to transport. This makes it ideal for multiple trips from the car to shops or attractions.
Finally, the large wheels provide great ground clearance over rougher terrain and a stable ride for the user.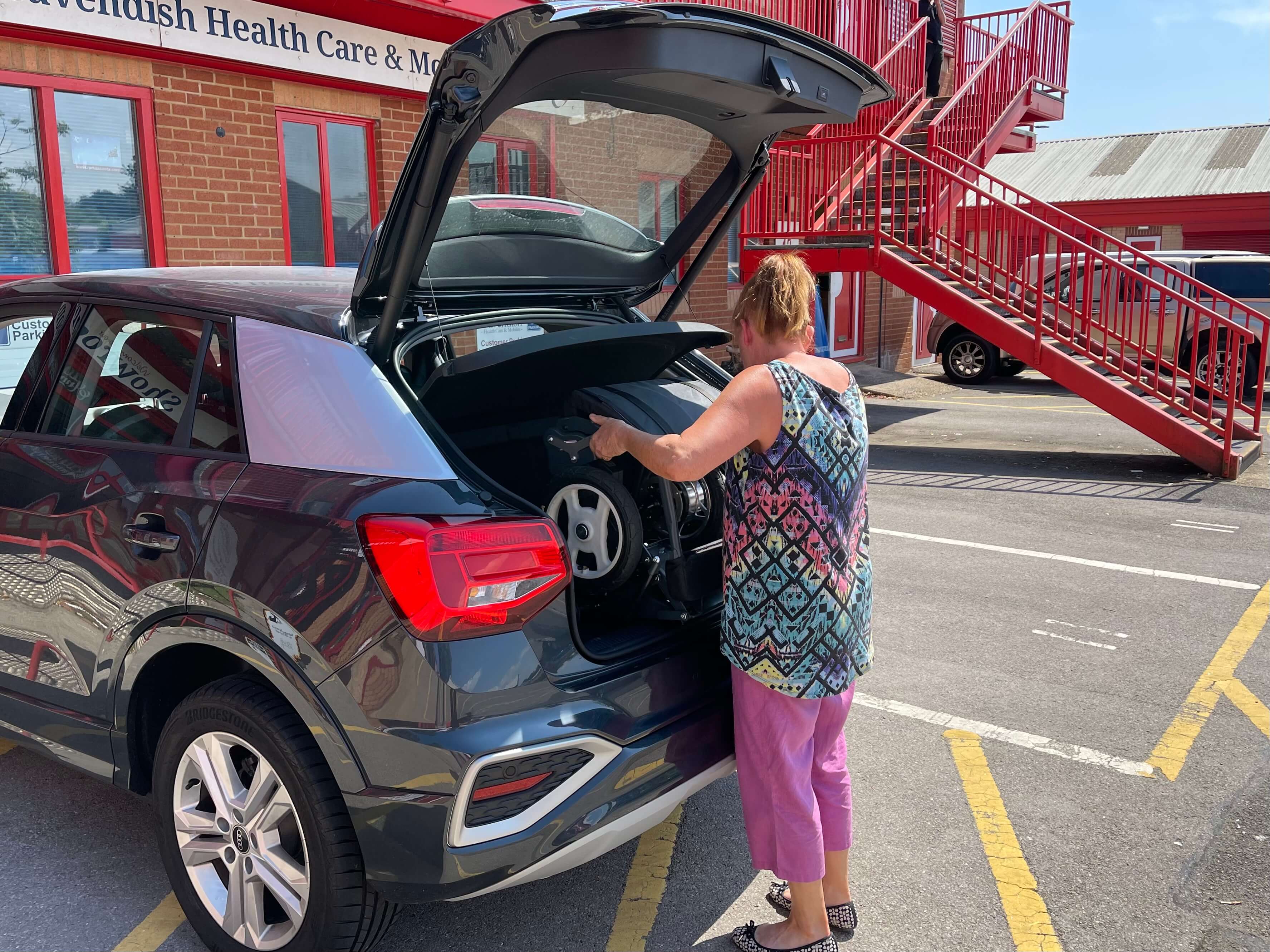 #1. SupaScoota Microlite
Number 1 on our list of top staycation travel scooters for summer 2022 is the SupaScoota Microlite. With this scooter, it is very much Microlite by name, Microlite by nature because this scooter weighs in at less than 18kgs which makes it not only the lightest scooter we sell, but also the lightest portable scooter in the world.
The SupaScoota Microlite folds down to easily fit in a car boot. Just lift off the seat, fold down the handle bar and that's it. You can connect or disconnect the battery to the Microlite in a snip, which can make it even lighter to lift.
A key feature of the SupaScoota we haven't mentioned yet is that there are seven of them. The Microlite is the lightest and nimblest, but if you would like bigger wheels for uneven ground then there is a SupaScoota for that. If you're a tall person and you'd like a longer wheelbase to give you more legroom then there is a SupaScoota for that too. If you want a second motor to give more power for going up hills then there is a SupaScoota for that as well. Simply put, there is a SupaScoota for everyone.
The seven variations of the SupaScoota are the Microlite, Supalite, Supalite 4, Sprint, Sport, Sport XL, and the Spartan.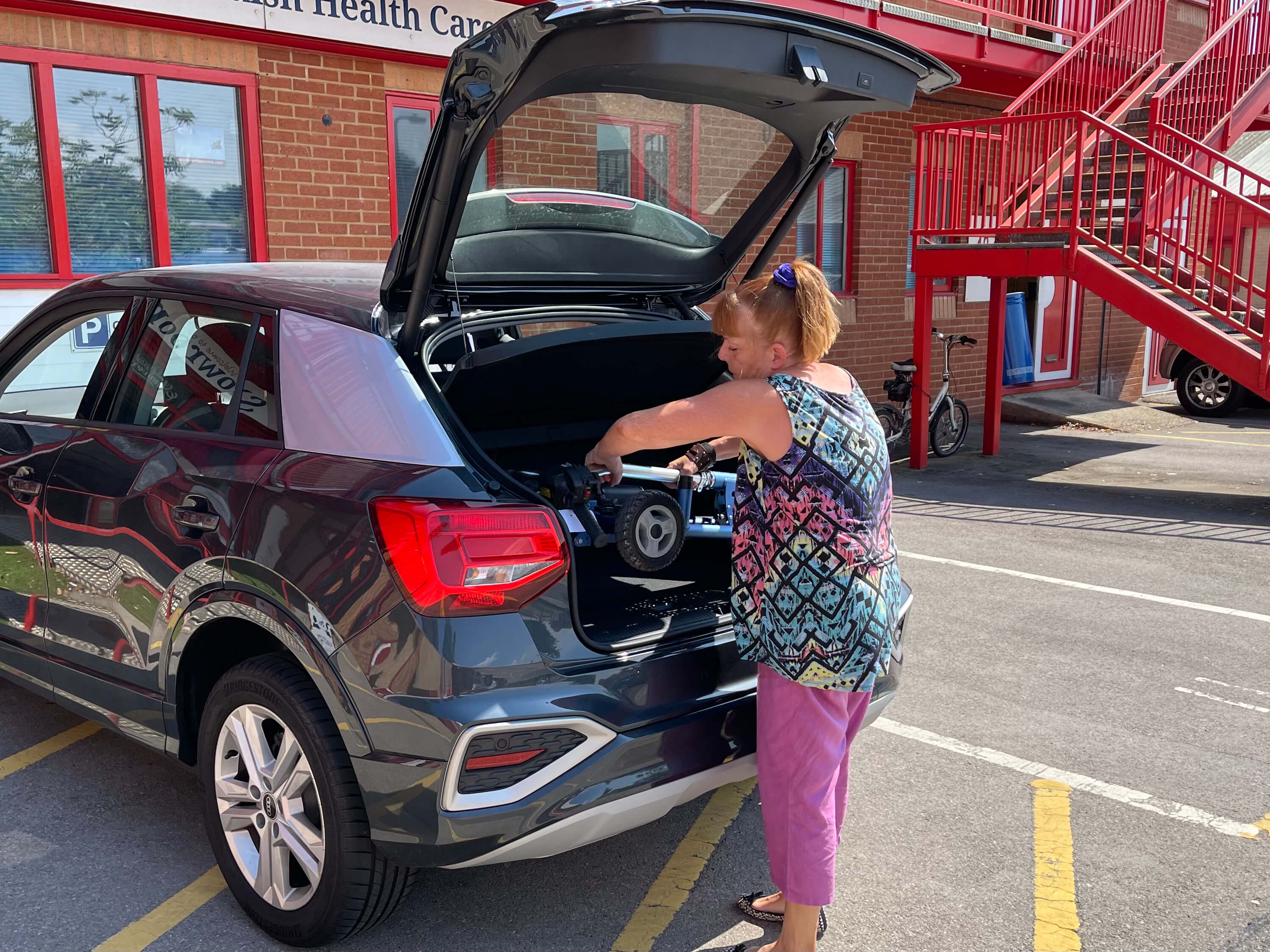 What next?
In this blog, we have outlined the 3 top staycation travel scooters for summer 2022 as recommended by our in-house experts. We think it is great that customers have so many options when they want a scooter that quickly folds or dismantles so that they can easily be taken on holiday.
At Cavendish, we believe that you should be 100% confident and comfortable with the mobility equipment you choose. For this reason we recommend that you try out a mobility scooter before you buy it.
Our friendly staff are more than happy to talk to you about the three scooters featured in today's blog post, as well as all our other products to find the mobility scooter that fits your needs.
To see more great content about products we provide that might be perfect for you, please follow us on Facebook.