Accessible Walks in Dorset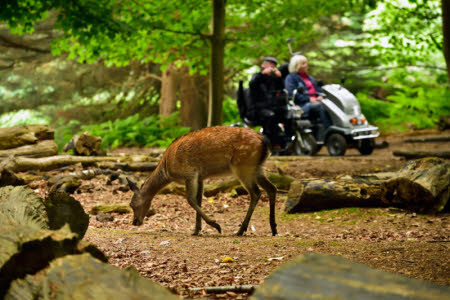 Dorset is renowned for its stunning landscapes, picturesque coastline, and charming countryside. While exploring this beautiful county, it's essential to ensure that everyone can enjoy its natural beauty, regardless of their mobility.
Although most locations cater for individuals who rely on mobility aids, it is still a good idea to research a location to check that its trails are accessible and to avoid any disappointment.
We have taken the time to research and recommend some accessible and scenic walks in Dorset, that are perfect for people using wheelchairs and mobility scooters to help enjoy their day out.
Durlston Country Park and National Nature Reserve
Located near Swanage, Durlston Country Park offers a fantastic opportunity to experience Dorset's coastal beauty. The park has several accessible paths, including the Coast Path, which provides stunning views of the Jurassic Coast. With accessible parking and well-maintained paths, it's a perfect spot for wheelchair users and mobility scooter riders. Keep an eye out for wildlife, as the area is a haven for seabirds and marine life.
Radipole Lake Nature Reserve
For a peaceful stroll through a wetland paradise, head to Radipole Lake Nature Reserve in Weymouth. The reserve boasts accessible boardwalks and paths, allowing everyone to enjoy the serene surroundings. Birdwatchers will delight in the variety of avian species that call this area home. There's also a visitor centre with accessible facilities and information about the local wildlife.
Lodmoor Country Park
Adjacent to Radipole Lake, Lodmoor Country Park offers even more accessible trails and wildlife viewing opportunities. The paths are level and well-paved, making them ideal for wheelchair users and mobility scooters. Enjoy the scenic views, and keep an eye out for swans, ducks, and other waterfowl. There's also a café where you can take a break and soak in the atmosphere.
Kingston Lacy Estate
If you're looking for a blend of history and natural beauty, the Kingston Lacy Estate near Wimborne Minster is a fantastic choice. The estate features accessible paths through its extensive gardens, which are home to a wide variety of plants and trees. You can also explore the beautiful Japanese Garden and the lavish interiors of Kingston Lacy House, with accessible ramps and routes throughout.
Avon Heath Country Park
Nestled in the heart of East Dorset, Avon Heath Country Park offers an accessible walk through heathland and woodland landscapes. The park has designated accessible routes, ensuring that wheelchair users and mobility scooter riders can enjoy the flora and fauna. The visitor center provides accessible facilities and information about the park's diverse ecosystems.
Lulworth Cove and Durdle Door
Experience some of Dorset's most iconic landmarks by visiting Lulworth Cove and Durdle Door. While the terrain can be challenging, there are accessible routes and viewing platforms that provide excellent vistas of these natural wonders. Accessible parking is available, and the visitor centre is equipped with accessible facilities.
---
While we have primarily focused on highlighting scenic routes near our south coast showrooms, consider bookmarking the links provided below for your future outings. These resources offer comprehensive information about incline types, rest stops, restroom availability, and route lengths.
If you're using a mobility aid, then a little extra planning may be all that's necessary.
Noteworthy Resources:
Dorset's natural beauty is for everyone to enjoy, regardless of their mobility challenges. These accessible scenic walks and nature reserves provide an opportunity for wheelchair users and mobility scooter riders to connect with nature and explore the stunning landscapes that Dorset has to offer. So, pack your camera, put on your walking shoes, or charge up your mobility scooter, and embark on a memorable journey through the accessible beauty of Dorset.
If you require any advice on mobility products, feel free to give us a call on 0333 4141890 – we'd be more than happy to help.