Frequently Asked Questions (FAQ) about Wheelchairs
What types of wheelchairs are available?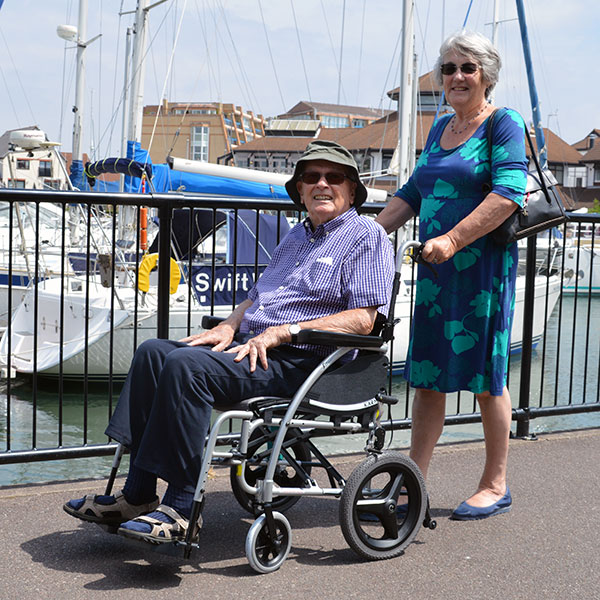 A variety of wheelchairs are available to suit different needs. Common types include manual wheelchairs, which require self-propulsion (see: self-propelled wheelchairs) or assistance from a caregiver (see: transit wheelchairs), and electric or power wheelchairs (also known as powerchairs), which are motorised and controlled with a joystick.
How do I know which wheelchair is right for me or my loved one?
Choosing the right wheelchair depends on factors such as individual mobility requirements, lifestyle, and budget. It's essential to consult with a healthcare professional or an occupational therapist who can assess your needs and recommend the most suitable option. Here at Cavendish Health Care & Mobility, we are happy to talk about wheelchair solutions and answer any questions you may have.
Can I get financial assistance for a wheelchair in the UK?
Financial assistance is available to eligible individuals through the National Health Service (NHS) or local authorities. The process involves an assessment to determine eligibility, and if qualified, the cost of the wheelchair may be partially or fully covered.
Are wheelchair ramps provided in public places?
In the UK, most public places are generally required to have wheelchair-accessible facilities, including ramps. The Equality Act 2010 sets guidelines to ensure that public spaces are accessible to all individuals, including those with mobility challenges. For personal use we can also supply various wheelchair ramp solutions for use at home.
Can I take my wheelchair on public transport?
Yes, many forms of public transport in the UK are wheelchair-accessible, including buses, coaches, and trains. Most buses and trains have designated spaces and ramps for wheelchair users. It's recommended to check first with the specific transport provider for any guidelines or requirements. For more information please read our FAQ on travelling with mobility equipment.
How do I maintain and care for my wheelchair?
Regular maintenance is crucial for keeping your wheelchair in good condition. This may involve checking the tires, brakes, and moving parts regularly, as well as cleaning the frame and upholstery. Follow the manufacturer's instructions and consider having it serviced by a professional annually. Here at Cavendish Health Care & Mobility we always recommend that you get your powerchair serviced every year - then you don't have to worry about unexpected breakdowns or repairs, you can just concentrate on enjoying the journey.
Can I travel with my wheelchair on airplanes?
UK regulations mandate that airlines must provide assistance to passengers with reduced mobility. Most airlines allow passengers to bring their wheelchairs on board, but it's essential to inform the airline in advance and check their specific policies. If you are using a powerchair then our blog about flight friendly Lithium batteries may be of interest.
Are there wheelchair-friendly tourist attractions and accommodation?
Yes, many tourist attractions, hotels, and accommodation in the UK are wheelchair-friendly. It's advisable to research and plan ahead to ensure that the places you intend to visit are accessible for wheelchair users. Check our blogs: Accessible walks in Hampshire and Accessible walks in Devon for some ideas.
Can I hire a wheelchair temporarily in the UK?
Temporary wheelchair hire is available through various sources, such as mobility shops, charities, and the NHS. If you require a wheelchair for a short period due to injury or recovery, renting one might be a practical option. Please check our mobility hire section for more details.
How can I learn to use a new wheelchair safely?
If you are new to using a wheelchair, it's essential to receive proper training on its operation and safety guidelines. Your healthcare provider, occupational therapist, or the wheelchair supplier can provide instructions and tips for safe usage. Our representatives are always happy to answer your questions.
Remember, each person's wheelchair needs may vary, so it's best to seek personalised advice and solutions to ensure a comfortable and functional experience.