SupaScoota Sprint: Made to be a Portable Mobility Scooter
When you think of sprinting you can imagine getting from point A to point B relatively fast and over a short distance. Here at Cavendish Health Care, we want you to be able to go much further with ease, comfort… and two 150-watt motors. Is that even possible? Absolutely!
If you are looking for a 4mph class 2 scooter, but don't want to sacrifice comfort when searching for a lightweight mobility aid, you've come to the right blog!
The SupaScoota Sprint is designed as an everyday lightweight mobility scooter, keeping you independent, with the freedom to go a little further than down the road! Manufactured to be lightweight and durable, the steel frame along with suspension allows the Sprint to take on bumpier ground, whilst the journey remains soft for the customer. As I mentioned, it does have two 150-watt motors (it is called the Sprint after all) providing that extra torque so it can ride over and through terrain with relative ease, and at a steady pace. You want to go to the park, which is down the road and through that field (as long as the ground isn't too wet or overgrown) – take the Sprint!
You also have the choice of battery type: whether you would prefer the SLA battery or Lithium battery, this scooter can reach up to 8 or 10 miles respectively. Not far enough? We also have available the spare battery tray, which when purchased can store an additional battery for those longer trips you wish to make. 2 times the power and 2 times the charge, mobility scooters with lithium batteries can take you further than before!
As part of the SupaScoota range, the Sprint has been made to be a portable mobility scooter, so it can be easily loaded in and out of a vehicle. Simply lift the seat, unplug and remove the battery (or leave it in if you've had your spinach) release and fold the tiller and you have 2-3 light pieces to move in and out of a car boot, or to be easily stored away. You can even take the basket it off, but like the battery it is not necessary to the folding aspect of this scooter, but an option to help minimise how much weight you are lifting at once. Should it be more suitable, a car hoist for mobility scooters can also be arranged! Please call Cavendish Health Care for more information if you are looking for a mobility scooter hoist.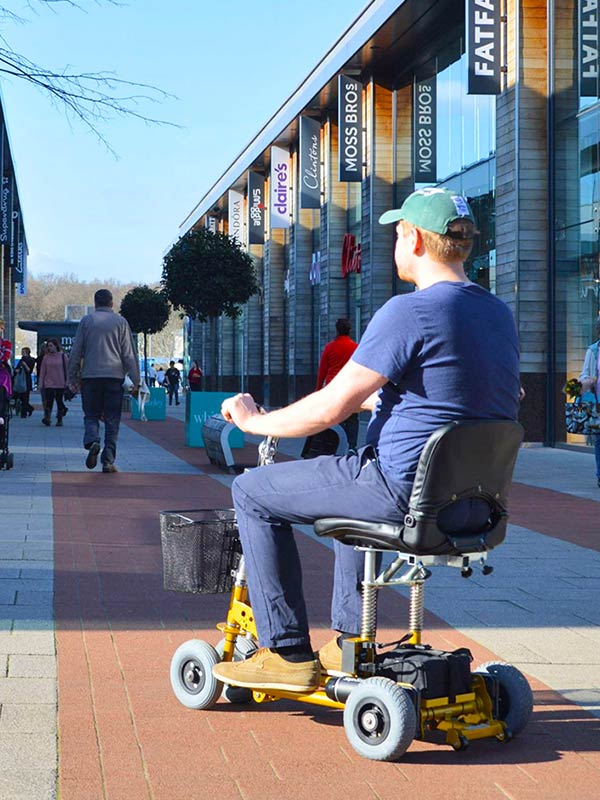 One of the appealing safety features on this range of scooters is a fancy red button, located on one of the handles. Though this may seem like a handy horn, don't be fooled! This clever button temporarily switches off what we call the ESC. What does that stand for? Electronic Stability Control. (Let's stick with ESC).
4mph is pretty quick when you compare it to the average walking speed of a human, especially as we all get older. Add this to the tight turning circle of our range, and you would be able to slalom your way anywhere… Although perhaps a little too fast? To keep you safe darting around corners, and keep the scooter stable, the ESC kicks in when the wheel is turned, reducing the speed of the scooter when it is not in a straight line. Now for those who like to live life on edge, this can be disabled by pushing that red button, and will last for a solid 20 seconds! The ESC will then re-engage after the time is up.
Though the Sprint may not be an off-road companion, it is sure to get you where you need to go, in good timing and in comfort as a mobility scooter with suspension. Don't believe me? Come visit one of Cavendish Health Care showrooms in Waterlooville, Torquay and Exeter and try it for yourself, or see their complete mobility scooter range! Drive the scooter in their car park to test the cushioned seat or weave in and out of the showroom to see the ESC kick in. Take the scooter apart yourself to see how simple and light this portable scooter really is. They are always here to help and are only a phone call away if you have any questions!
SupaScoota Sprint